Our understated Sukiya style tatami rooms adjacent to Omiya Park,
and our breakfasts and dinners of Japanese cuisine,
overflowing with the seasonality distinctive of ryokan inns and restaurants,
will soothe any physical or mental fatigue from your travels.
Travelers to Omiya can also enjoy local attractions such as the Railway Museum,
the Omiya Bonsai Art Museum, and the Saitama Super Arena.
Our inn has been designated by the Ministry of Land, Infrastructure, Transport,
and Tourism as a certified international tourist hotel.
This qualification is given only to lodging facilities that have fulfilled such criteria as enhanced facilities,
reasonable room rates, periodic inspections, thorough disaster prevention equipment,
and service suited to international guests.
Thanks to this, guests from overseas can stay at our inn without worry.
We seek to be a Japanese inn where everyone who visits Omiya can relax in body and spirit.
We sincerely look forward to your visit.
Stay Plans

Sukiya style Standard Japanese Room (Standard Room)  


Size: 8 tatami mats /10 tatami mats(Capacity: 4 guests)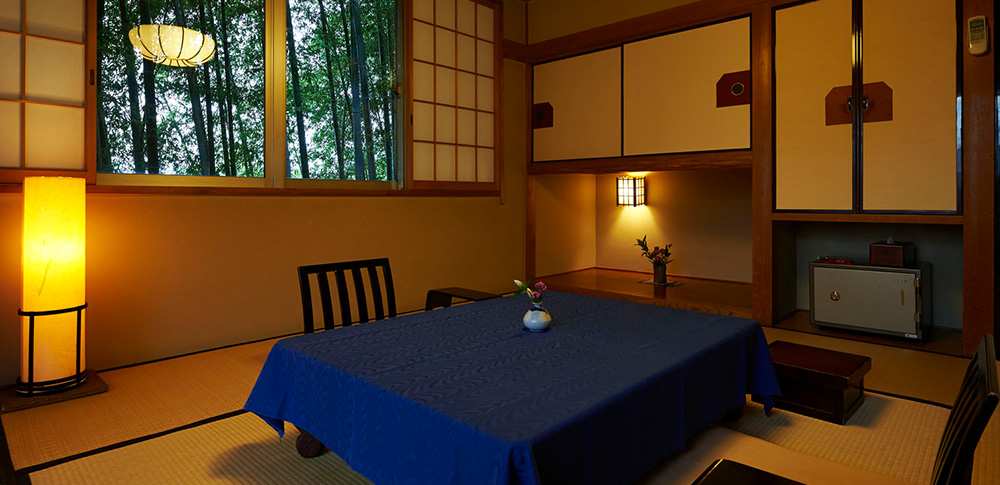 Special Sukiya Style Japanese Room (Suite Room)

Size:14 tatami mats (Capacity: 8 guests)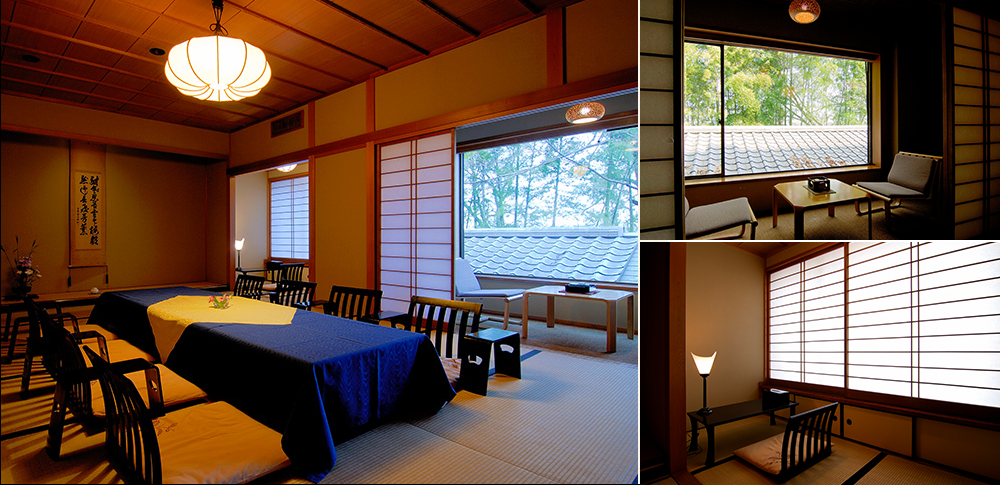 This is our inn's special room, a suite with a 14 mat room and a 3 mat room.
This room also includes a bath made of hinoki cypress for your restful relaxation.

Dinner

Japanese cuisine that enhances seasonal ingredients
and exhibits rich colors and flavors
At SHINDOYAMAYA, we craft a unique kaiseki cuisine
that regularly offers new approaches.
We also offer meals for children.
Our kitchen is closed weekly on Wednesdays and may also
have irregular closures.
We ask that you check in advance of your visit.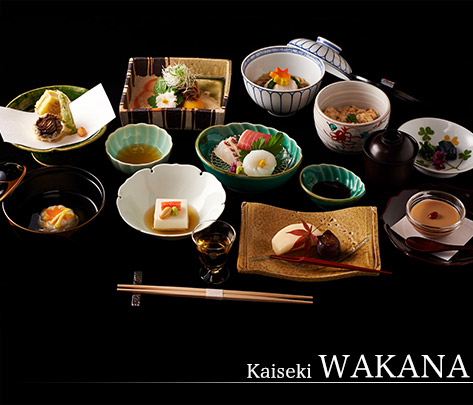 Morning

Wake to the sound of songbirds,
then enjoy a luxurious breakfast
SHINDOYAMAYA has operated as a restaurant and
inn on the scenic bank of the Minuma River since the Meiji period.
After all is said and done,
what we're proudest of is our daily rotating
Japanese style breakfast,
which our cooks put every effort into making.
Our breakfast is substantial in both quality
and quantity and is favorably rated even by athletes.

We offer value plans with breakfast included to our overnight guests.
Apart from our Japanese breakfast,
you may also select a hearty American style breakfast.
How would you like to start your day with breakfast at SHINDOYAMAYA?
Breakfast Hours: 7:00 a.m. / 7:30 a.m. / 8:00 a.m. (advance reservations required)
Location: 1st Floor Banquet Hall; Seats may be occupied until 9:00 a.m.
We accept reservations for breakfast until 7:00 p.m. on the day you check in.
Please select between Japanese style breakfast and
Western style breakfast the day before.
On some dates, we only serve Japanese style breakfast.
Please confirm ahead of time.